Hida-Takayama Ramen
日本食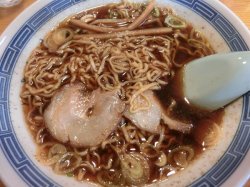 Hida-Takayama Ramen!
Have you ever tried ramen?
The only dish you can taste at this restaurant 'Masago' is ramen.
There's no other dishes on the menu.
The dark colored soup and the curly noodles go very well together!
You should try if you have a chance to come to Takayama City!
飛騨高山にある「まさごそば」で出されるメニューは「中華そば」のみ!
ほかに何もありません。
黒っぽいスープとちぢれ麺が良く合います。
高山市に来る機会があればぜひお立ち寄りください!
- JapanVillage >>>
http://www.japanvillage.jp/