Try our new curry! Once you taste it, you'll never forget the taste! :)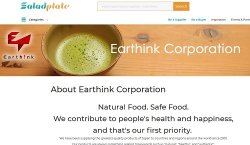 This year, lots of exhibitions were canceled because of the pandemic.
If you are a business, and looking for a great BtoB platform to source new products, please try Saladplate, a Singaporean online wholesale marketplace.
We, JapanVillage(Earthink Corporation) has gained a great opportunity to newly join this online exhibition with the support of JETRO (Japan External Trade Organization). Yay!
Visit us here.
We are going to add more and more items very soon!