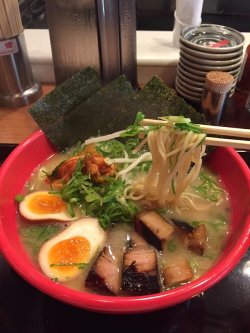 It's getting warmer and warmer in Japan! The rainy season will start in a few weeks, and after that, we'll expect that very, very hot summer coming!
What do you like to eat on a hot summer day??
I love to eat hot ramen noodles!
The photo is a famous ramen restaurant in Kobe.
It's called 'Ramen TARO'.
The greasy Chashu pork (it's a very popular ramen topping!) on the noodles tastes great with the noodles!
Have you ever tasted ramen noodles??
If you have, where did you eat it?
日本はだんだん暑くなってきました。あと2週間もすれば梅雨。その後はアツイ暑い夏がやってきます!
暑い日には何を食べたいですか?
私は・・・熱いラーメンが食べたい!
写真のお店は神戸の有名ラーメン店、「ラーメンたろう」です。
脂っこいチャーシューが麺とよく合って美味しいですよ!
ラーメンは食べたことありますか?
どこで食べましたか?
You can purchase Japan's local ramen noodles here:
http://www.japanvillage.jp/
Click to know more about ramen noodles:
http://www.mentwo.com/