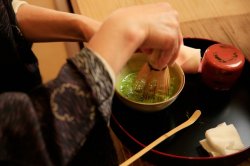 Do you like Japanese matcha green tea?
Well, we love it!
We had a tea ceremony the other day at our office, and enjoyed the relaxing time so much.
We invited a tea ceremony teacher, and she taught us the manners at tea ceremonies, the history of matcha, and so many other beautiful Japanese cultural things.
It was such a wonderful opprtunity!
Are you interested in tea ceremonies?
皆様は抹茶はお好きですか?
先日お抹茶を事務所で頂く機会がありました。リラックスした時間を過ごすことができました。
お茶の先生をお招きして、お茶席でのマナーや抹茶の歴史、その他日本の美しい伝統なども教えて頂きました。
とても良い機会でした!
皆様はお茶席にご興味はおありですか?
- JapanVillage >>>
http://www.japanvillage.jp/
- Our mactha is here:
http://www.japanvillage.jp/product/681