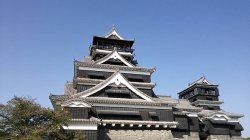 Kumamoto Castle---
We are so proud of the castle.
It's one of the most beautiful castles in Japan.
We are sending all our prayers to the victims of the devastating earthquake that hit Kyushu last week.
We hope all people in the quake-stricken area wiil feel safe and calm as soon as possible.
熊本城。
とても美しいお城です。
先週の破壊的な地震でお亡くなりになった方々に心よりお悔やみを申し上げます。
被災地の方々が安全で心穏やかに感じて頂ける日が一日も早くやってきますようにお祈り申し上げます。
Beautiful Photo by '日本のお城倶楽部':
https://www.facebook.com/oshiro.club?fref=photo
JapanVillage >>>
http://www.japanvillage.jp/