Futamigaura Coast
九州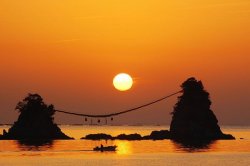 Bungo Futamigaura Coast, Oita Prefecture.
On the Bungo Futamigaura coast, there are a couple of rocks named Meoto (wedded) Iwa (rocks). The big braided rope which connects the two rocks is the largest in Japan and was registered in the Guinness Book in 1994. You can see the first sunrise of the year over the sea.
大分県、豊後二見ヶ浦。
夫婦岩と呼ばれる2つの岩を見ることができます。
2つの岩を繋ぐしめ縄は日本で最も大きなもので、1994年にギネスに登録されました。
ここで見る初日の出は素晴らしいです。
Thanks 'Oita Prefecturer's Official Sightseeing Information Site' for the information.
http://www.visit-oita.jp/sigh
…/oita_geographic/hinode.e.html
Amazing photo:
'九州観光旅行情報(Kyushu Tourism Information)':
https://www.facebook.com/visitkyushu?fref=photo
- JapanVillage >>>
http://www.japanvillage.jp/