1.17
兵庫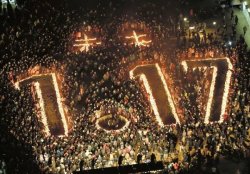 Yesterday, January 17th was the 21st anniversary of the massive earthquake which struck Kobe and surrounding areas.
6434 people were killed in the disaster.
At 5:46 a.m. the exact time when the earthquake hit the beautiful city of Kobe, people gave prayers for their lost loved ones.
21 years have passed, and Kobe is now as beautiful as it was before the earthquake. But the disaster will remain in our hearts as something we need to remember.
昨日1月17日は神戸とその周辺を襲った阪神大震災から21年の日でした。6434人もの人がなくなりました。
朝5:46分、地震発生時刻に人々はなくなった方への祈りを捧げました。
21年経ち、神戸は地震以前の美しさを取り戻しましたが、地震のことはいつまでも心に留めてこれからも進んでいくことでしょう。
photo from: '神戸新聞(Kobe Shimbun)':
https://www.facebook.com/KobeShimbun
- JapanVillage >>>
http://www.japanvillage.jp/